"Even doing something badly is fine. You'll see something there and then you can take that back to your discipline." - GG Interview #1: Jack McConnell
What inspires Jack Mcconnell? Other people, conversation and even doing something badly. Jack's an illustrator living in south Manchester. His work uses bright colours and bold patterns that immediately draw the eye to his figures of humans, animals and mythical beings. He's recently shown his work at Pi, in a joint exhibition GG member Joey Frances at The Font Chorlton and on window murals across Manchester. Rich James caught up with him at his home studio where they talked education, inspiration and practice.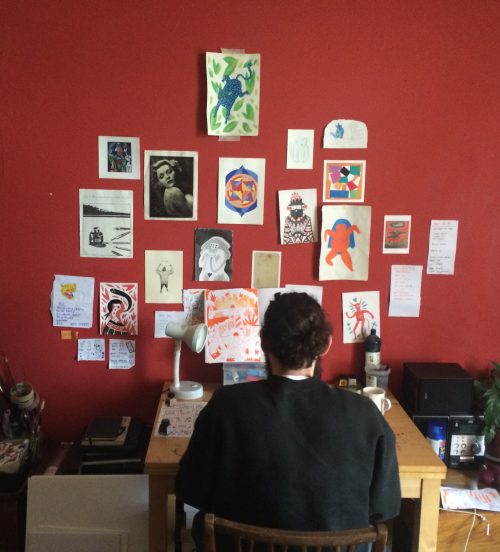 When did you start becoming interested in art?
I can't remember not drawing, before school. In Year 1 on a Monday I'd go in and have a book and there'd be a bit where you had to write what you did over the weekend and then on another page you'd have to draw a picture. I always remember the other kids asking me to draw anything they couldn't draw. I've always really got a buzz off it.
After school I went to the college of West Anglia and did a Fine Art BTech and that's probably where I got disinterested in doing art and then it was a similar sort of thing at university. I wasn't ever very good at studying art, the best art I think I did at school was on my English books. By the time I got to college I think I had a chip on my shoulder, I just felt that I wanted to do whatever I wanted to do and that wasn't allowed. It probably did open up a lot of doors but I lost a lot of enthusiasm.
The same thing happened at uni, it was acknowledged by my tutors that I could draw OK but I just wouldn't turn up or get on with stuff. So my interest dipped for a bit but I never stopped drawing. I think part of the problem was there was a distinction between uni work and the drawings I like to make.
Quite often doing things academically can take the joy out of it
Yeah it's something I'm still trying to find a balance with. I want to have an income or a sustainable life doing art but I don't want to pursue it to the point it kills what I love about it. The main thing is even if I don't make money I'll always draw. That's the most important thing really. I used to worry about getting an income or things like
 'I've got to be an artist', 'I've got to do this or that' but really it's very simple - I need to pay my bills, pay my rent and buy my art materials and then everything else is taken care of. It feels good.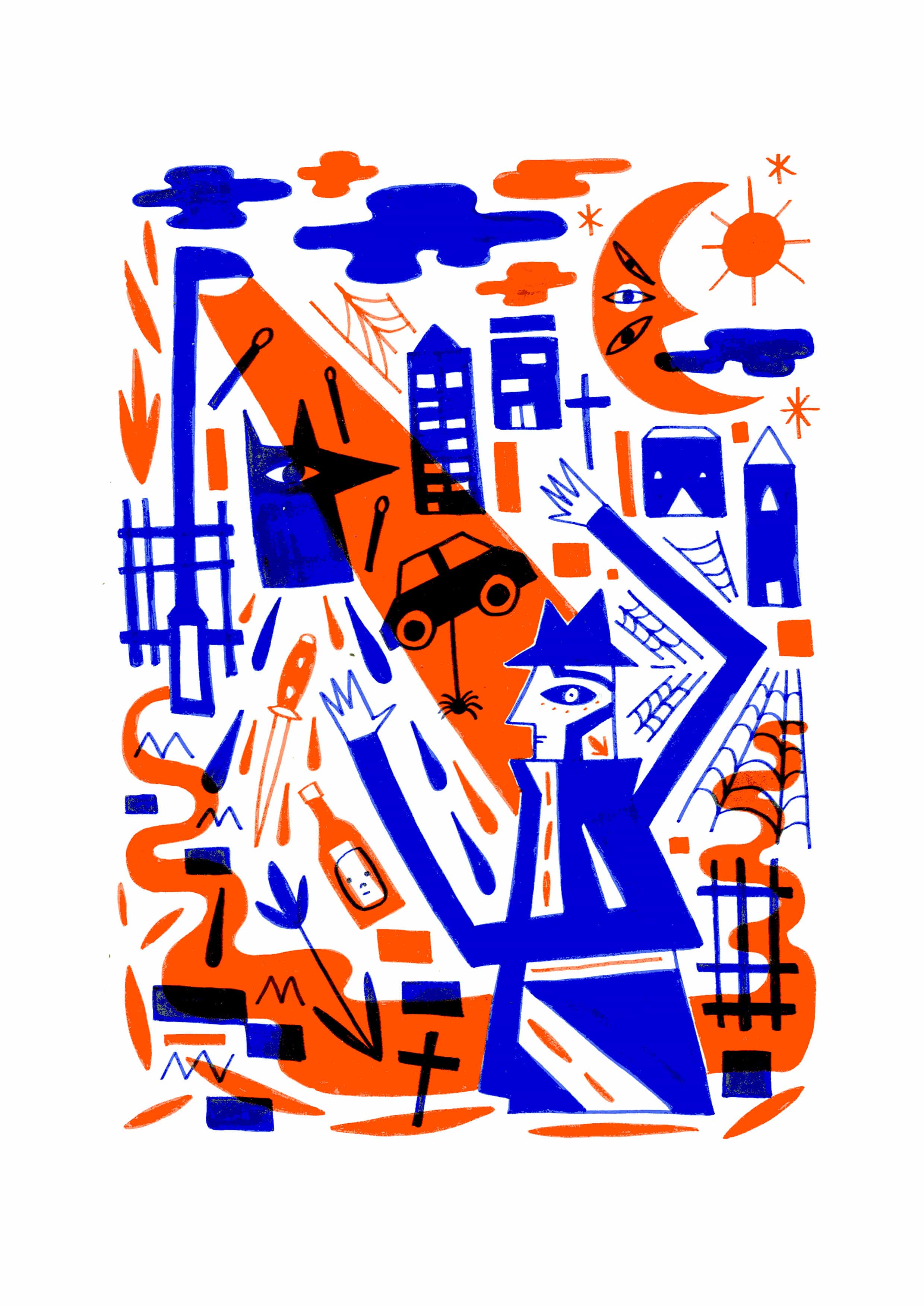 What inspires your work?
I suppose lots of things. I think of all these things as one genre, so you have art, music, writing, poetry, dance, theatre - anything a human can do to express life or emotions or the world or anything at all in a creative way. Once you see through all the dressings of something you can see the point of why someone's done something or why they are doing something and that's really inspiring. Other people are super inspiring. Conversation is very inspiring to me, even working at a bar or a tea shop or being surrounded by people in a city. There's so many different people focussing on different disciplines or different things and that's hugely inspiring. It sparks something when you see someone else's perspective that can really change things and change your own perspective on things as well.
I've tried to start doing things to balance the drawing because I spend a lot of time very isolated which is a plus but if there's too much of it then things get out of kilter. I like to surround myself by people. The posture of drawing can be very hard on the body. I draw really close - I think that's why my eyes are so bad, sometimes you have to look out and see it all together. Even getting on my bike and cycling - especially the Fallowfield loop - you just look ahead, especially in summer, you see all these trees that overlap in a tunnel way and there's all these amazing colours. Manchester is a gritty, grimy city but you don't have to go very far to get to somewhere beautiful and spacious.
When I get into drawing for a long period of time I can get into this 'no mind' state, and I can see other people can into that with swimming, breathing, meditation or yoga. There's so many different ways of getting there, I think I've had a little taste of what it's like to be in that place. That informs the way I work and then I just want to check all these different paths to getting to that place, even doing something badly is fine. You'll see something there and then you can take that back to your discipline.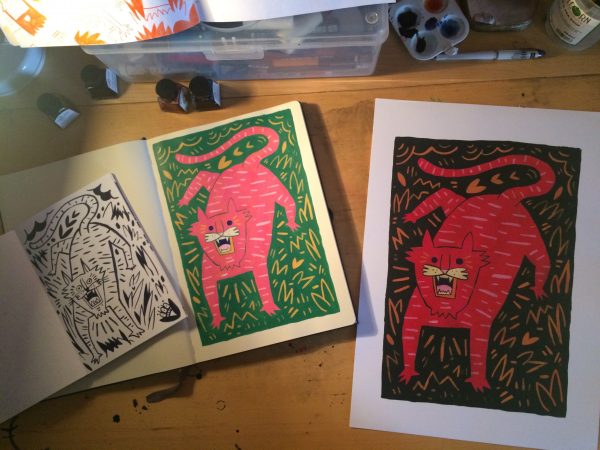 What mediums do you work in and how do you make your work?
Usually for my personal work I keep A5/A4 sketchbooks that I draw in every day with a liquid brush pen in black ink. These themes, designs or ideas - they're normally 'automatic' - not really planned or thought about -they come from a stream of consciousness. From there I'll take the themes or designs I like and I'll re-scale them, redraw them or paint them with gouache or acrylic paints. I'll either make a complete painting on paper or parts of it which I then scan into Photoshop, clean them up, cut them out, adjust the colours and then collage them to make the final pieces.
[Talking about his sketchbooks] I'm not really thinking about what i'm doing, just trying to empty my head. After a while [in this sketchbook] I realised I was just drawing these kind of lions and panthers.
How long would you say it takes you to do a full page in your sketchbook?
Probably about 20 minutes. When I start thinking too much or considering then it doesn't seem to work. The more intuitive it is then through the practice of doing it over and over after a while I hit my flow with it.
The sketchbooks are something I just do for myself, for no reason, because I find it fun to draw, I find the process useful, it's just like playing. Then [from sketchbook work] i'll get really excited, that'll spark ideas of 'Oh I can paint these'. From that I selected 10 to be framed for my most recent exhibition at Pi.
I don't know why I chose cats, or why the jungle or why they're dancing. The woman who arranged the show said they look like vibrating so I guess there's something about vibrating cats that I find ominous but everyone can make their own interpretation.
Does each sketchbook have a theme?
Yes, recently I've done some that are birds, the cat ones obviously. The next couple I'd like to do are boxes and dogs for a project with Rose Miller who's going to make some textiles.
How does making printed work differ from how you do murals?
Most people who ask me to do murals give me free reign, it's mostly up to me what I put in there. I'll just go to a sketchbook, flick through it and pick stuff out that I like. I usually go on the day and I take an A4 or A3 piece of paper and just plan out roughly what goes where with fine liner. I'll know what iIm drawing but I try not to look directly at the sketchbook because when I start focusing on the design it's almost like I forget what i'm drawing on the window. I think that's just how I work - in the moment.
If I get a commission for a poster or a painting and I don't have much time to do it i'll set a timer on my phone and just work for an hour without distraction to try and break the idea. Usually I search for what needs to be said [in the design], search for relevant images, fonts, styles, colours until I get an idea in my head of what I find interesting, what I think i'll be able to execute well regarding my style and just get to it. With a poster I normally try to spend one or two hours and not much more because after that isn't viable to do, both for the money and also I can obsess over small details which don't really help the final image. If you can constrict yourself rigidly at the start then the image will open up to you in some way.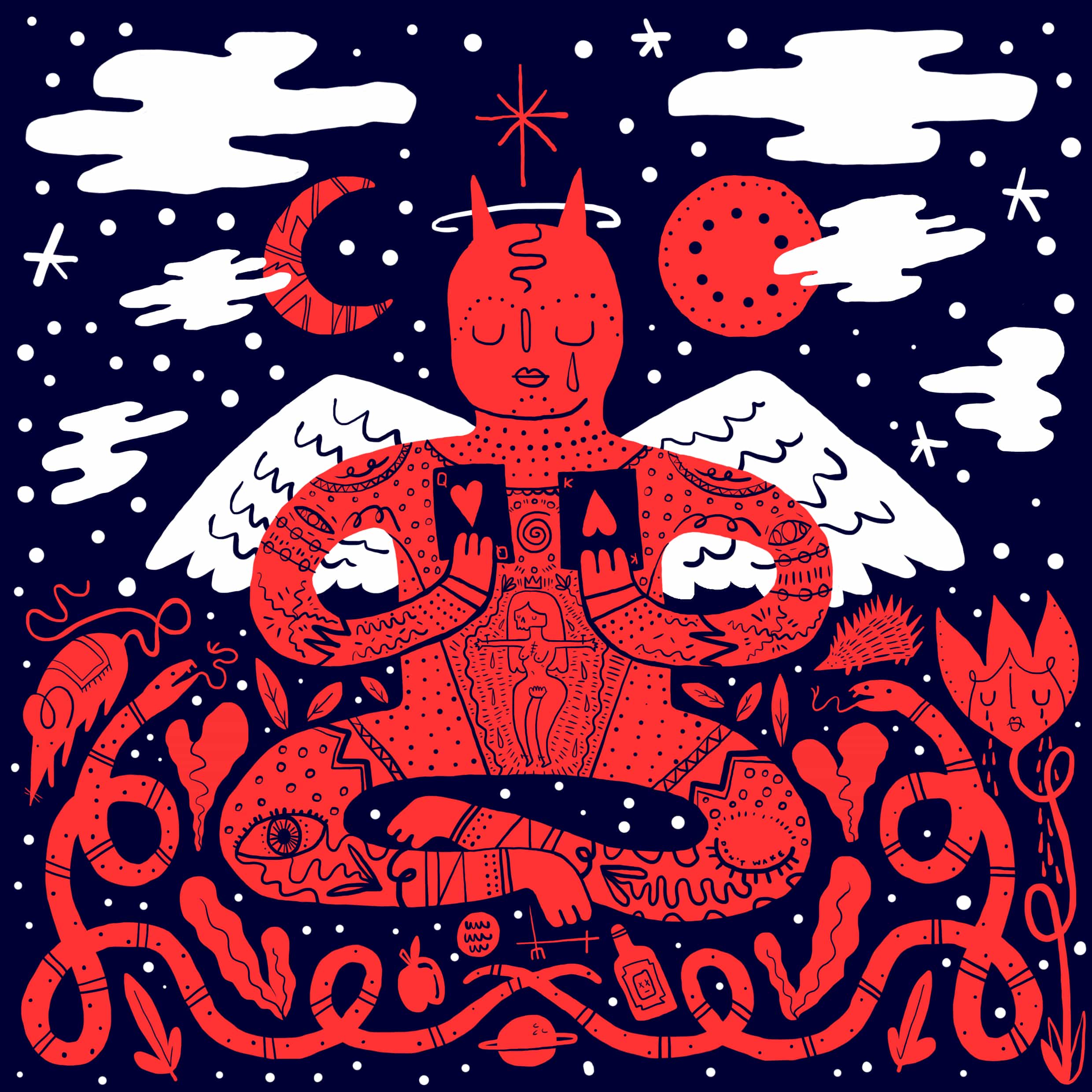 What's your favourite thing about doing art professionally and your least favourite thing?
The reason I'd like to do art for money [full time] is because it will increase the amount of time that I'll be producing art. I heard a quote the other day that people start as artists and they end up as bankers and then you have people who start as bankers and end up as artists. If you pursue something too hard or in a pushy way you can end up being the complete antithesis of what you started out to achieve. I don't want to kill the art and the play in my drawing but the restrictions of briefs and working for others in drawing will ultimately sharpen all my tools.
I think that the worst thing about doing art for money is that it'd be very easy to get out of focus and off track and end up completely demolishing the incentives of why you started. I think it's always good to take your time and step back and check why you're doing something and what you want to gain from it. Do you want to earn this amount of money? Well there's other ways to earn an amount of money, it might not be the most efficient way by doing art. People also want fame but that seems to be a difficult thing to acquire and is that even what you want in your life? Do you want to be constantly known and recognised? Do you want to be renowned or notorious? Do you want to share your art with people? Do you want make art? then just make art.
I think the worst thing is killing what you love.
I think that's why it's good to have breaks from art
Yeah and other things. Other interests or other ways of expressing the same thing. If I get burnt out with drawing I can pick up the guitar, I know what I want out of music - it's to sit on my own and play. I don't want a career, I don't want to go on stage, I don't want to write my own stuff. I'm happy to just noodle about and improvise or just copy someone else's song. But I don't want to sit and copy someone else's drawings, I want to really push to find, pooling all of my influences and my tastes, to express something that I want to say. It comes much more naturally to draw with pen and a piece of paper but that's not to say that my guitar doesn't have it's place or going to the swimming pool and being rubbish at swimming doesn't have its place.
How did you find the transition from finishing uni to going freelance?
When I finished uni I had no idea what I was going to do, all I knew was that I wanted to draw. I had an idea that I wanted to be an artist. I studied illustration and animation at Manchester School of Art and then I just sort of crashed for about 2 years. All I knew was that I didn't want to go back to Norfolk so I got a job to stay in Manchester.
I've got much more confidence now, I'm more excited to learn and I'm more passionate now that I'm outside of university. That's not to put down university, i'm sure that part of me enjoying this now is because I realise what a great opportunity university was and that maybe I didn't use it the best.
All you have to do is keep practicing, keep going and that's where i'm at now - keep getting better. I want to keep doing what I do, keep being disciplined and see where it takes me and just see if the world can open up more through my drawing, showing them to people and working with people.
How do you find your freelance work?
At first it was just word of mouth, people asking me. I got commissions from friends and people I knew and what I attempted to do was to treat them seriously, treat them professionally so I'd try to do what I wanted, try to get it done on time to a good standard and charge a fair price. After that when I had people coming to me who I didn't know, buying my work I just felt like I was stepping up a bit. It was only because of the work and the standard of the work that people were asking me to do something so that felt good. I want to keep growing that and spreading that further.
Essentially I've done a load of window paintings for bars. I think a lot of people recognise the window paintings I've done so people going into places where the paintings were and getting in touch on my Instagram or emailing me. I started at The Spoon, then I did Mary and Archies and I do Bluu as well. Now I've done Boho in Northenden, did the mural at Man Bites Frog and then i've got a couple more coming up in bars. It's still very small. I haven't set up a website yet, I've only got my instagram. It's word of mouth, This has all happened quite recently so i'm still starting out but it's built my confidence up a lot.
It's like you've covered Chorlton!
That was a particular idea I had after the two on Barlow Moor Road, what else in Chorlton can I get? Now I've got a couple more coming up - the veggie deli and Pi. Font - we've done an exhibition there. There's quite a few little bars and it's only one particular area but then I want to spread out and go to Manchester city centre or Didsbury or Stretford.
What ambitions do you have for your work in the future?
I wanted to sell work, I wanted to put on a little show and I've done that in some form just in little bars in Chorlton but I've started making prints and selling work. I've started selling work to people I don't know which was another one of my goals.
I have an idea for a show that I would love to do. I'd love to make some textile flags and Rose seemed up for collaborating on that, that'd be amazing. If I could have a show with her with these flags with certain designs on within a certain idea that'd be amazing.
I'm not sure what other goals I have.
Another goal I had was to paint really big. I wanted to do a big mural and next week I'm painting one at The Greater Manchester Law Centre which is a charity dealing with people who have mental health issues and refugees who need to be represented in the court of law. They're on Princess Road and they've got a huge backyard, when I saw the wall I thought 'this is perfect!'. I wanted to attempt the biggest thing I've done and I saw this wall and I thought it was amazing. I love that it's a charity, they sound like such a good cause. One thing is just want to do the painting and it's another thing if I can donate it for the charity, I think that's an even bigger buzz.
You can find Jack Mcconnell's work dotted over Chorton at The Spoon Inn and Mary & Archies, or online  at www.dzekutis.tumblr.com. Follow him on Instagram via @dzekutis_. Thanks for your time, Jack!